Just a newbie to the world of books!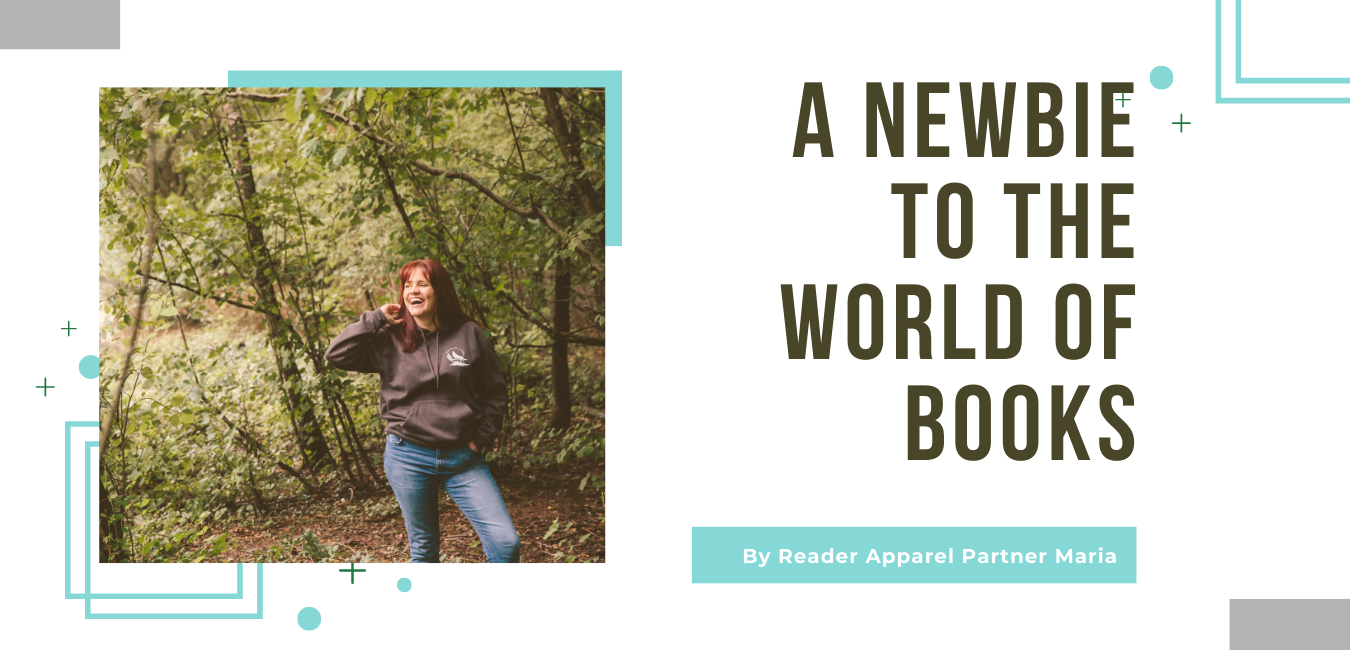 In comparison to Becky (my Reader Apparel Partner and buddy) and to the majority of people who visit this website and our social media channels I am a newbie to the world of books.
Obviously, I have read books in the past throughout school, to my children, on holiday etc but I never really appreciated them and the impact they could have on someone's life. They are a friend, a comforter and place to go to escape from these crazy times.
It has only really been the last 6 years that I would say I have become an avid reader. I have gone from maybe reading one whole book a year at a push to now not being able to go to sleep unless I have read a couple of chapters. Though my husband would say this is a lie and that I am lucky if I can manage to read two pages at night time as I fall asleep so quickly. He doesn't understand how I ever manage to finish a book with the speed I read!
I love a variety of genres however mainly romance, thrillers with the odd bit of fantasy thrown in. One of the first books I read was PS I Love You, which absolutely broke my heart. I then found myself reading Bridget Jones, getting hooked on Harry Potter and falling in love with Twilight (I am definitely team Edward btw!) and have now read many many more. One of my absolute favourites was probably Me Before You by JoJo Moyes. Another tear jerker but simply beautiful.
Being a mum to Amber (14) and Sam (10) I have loved re-reading some of these books with them and enjoying the excitement all over again. Though I have to say at the moment they are much more interested in their Xbox and phones sadly.
A few years ago, Becky asked me to join her at a book signing event in Newcastle, it was my first time at such an event and I was just blown away by the passion of the book fans and the tremendous support they gave to the authors. Guests would queue for an hour just to say hello to their favourite author, it was simply incredible to see.
One story stands out from my time at the signing. All of the authors were chatting about the books they had read, and to get in on the action I decided to declare "Well I must have read at least 100 books". The looks on their faces were a picture, and I could see that they felt sorry for me, they just smiled at me and carried on talking. Becky soon whispered to me that many of the people at this event read over 100 books a year! Ha ha. I felt a little silly, but now I am proud to say I must have read at least 200.
I have supported Becky on a number of occasions proof reading her books, I really enjoyed helping out where I could and I was able to highlight any small errors or inconsistencies etc. This then made me think "Hell yeah I can write a book!!". Hmm, that would actually be a great big 'no'. Yes anyone can write a book, but it takes great deal of imagination, heart, focus and dedication to write a good book and I am in absolute awe of Becky and all of the authors that we at Reader Apparel work with, and will hopefully work with in the future.